Meet your training obligations with minimum disruption – regulatory compliance increasingly requires firms to provide regular training to staff and to keep accurate records of the steps taken.
Protect your firm from criminal prosecution and civil liability – failing to meet regulatory requirements can have serious consequences for your organisation and for responsible managers.
Provide expert training and guidance tailored to your sector – Compliance Training Products publish a range of dedicated resources designed to help meet your firm's ongoing responsibilities with total confidence.
Trusted by regulated firms and institutions
Get the best training and guidance
With a constantly changing regulatory environment you need access to expert guidance, up-to-date training and robust record keeping systems. We offer a range of products to help you meet your ongoing compliance obligations – including the Training on Record online learning programme.
From an authoritative source
For over 30 years our Money Laundering Resource brand has been the most established on the market. We've written training for the British Bankers Association, the Association of Chartered Certified Accountants, and the Law Societies of England & Wales, Scotland and the Isle of Man.
Training on Record online learning
A compliance training solution for the whole firm:
Interactive training that's designed for your business– our compliance courses use 'real life' scenarios that illustrate the risks for specific sectors, followed by a separate awareness test with relevant questions that enable the user to show their understanding.
With automatic training records – the Training on Record programme automatically saves your users' progression and test scores, and creates online records to demonstrate your firm's compliance.
And useful monitoring tools for managers – our bespoke Training on Record Learning Management System enables you to allocate modules, check user progress at a glance and run useful reports for your own records.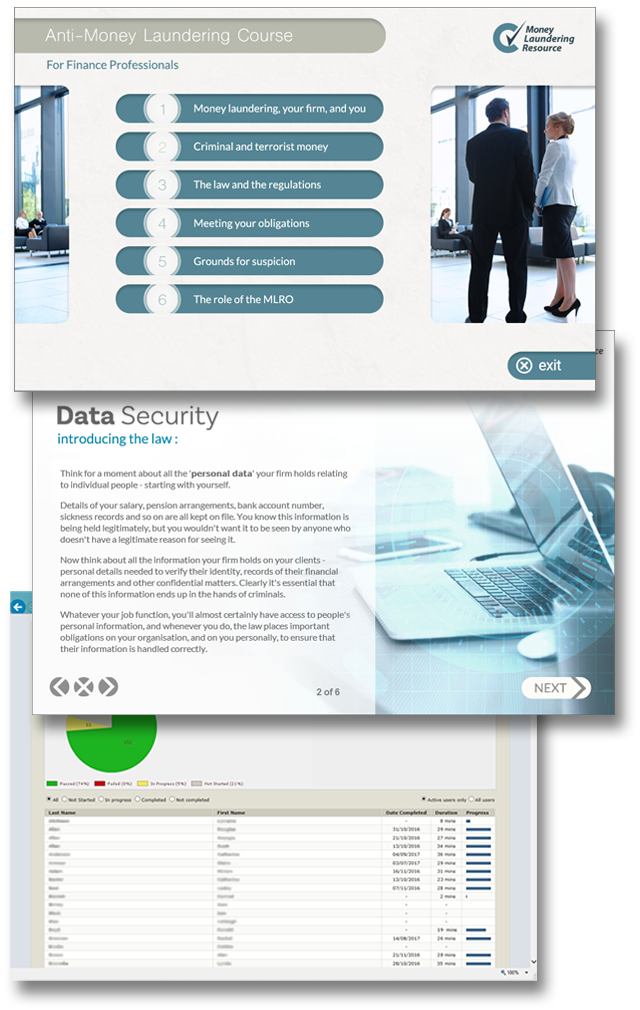 Why choose Compliance Training Products?
We make your life easier
Clients come to us for a complete solution to their ongoing training needs. We take care of the details, so you can meet your obligations with minimum disruption.
We keep you up-to-date
We keep a constant watch on the regulatory environment and feed any changes into our ongoing product development, so you will always get the most up-to-date guidance.
We're always happy to help
Our clients rely on us for our subject expertise, and for the excellent levels of customer service and technical support we offer. If you have a query, we're right on the end of the phone.