Staff training with competence testing – our online courses offer a cost-effective way to reinforce your firm's Anti-Bribery and Corruption policies.
Separate UK and Worldwide versions – courses are available for firms subject to the UK Bribery Act and equivalent overseas legislation.
Manage your risks with minimum disruption
Meet government guidelines
Designed in accordance with UK Ministry of Justice guidelines to the Bribery Act – the toughest piece of Anti-Bribery legislation in the world.
Secure training records
User completion data is logged and available online – should an incident ever occur your firm's training records may be your only protection.
Maximum convenience
Your staff can log in to our secure servers at any time and complete the training at their own speed, with minimum disruption to their work.
The Training on Record package
An essential programme for all employees:
A concise learning module – covering the essential legal points. This brief but comprehensive module uses a highly interactive approach, with questions designed to make the user think about the risks they face.
A separate test module – setting your users ten questions randomly selected from a bank of thirty. Scores are recorded on our system to enable you to show that your users have a good understanding of the subject.
Web access to our Learning Management System – you'll be set up with your own secure area on our servers, with 'Administrator' access so you can monitor user progress for all your Training on Record courses.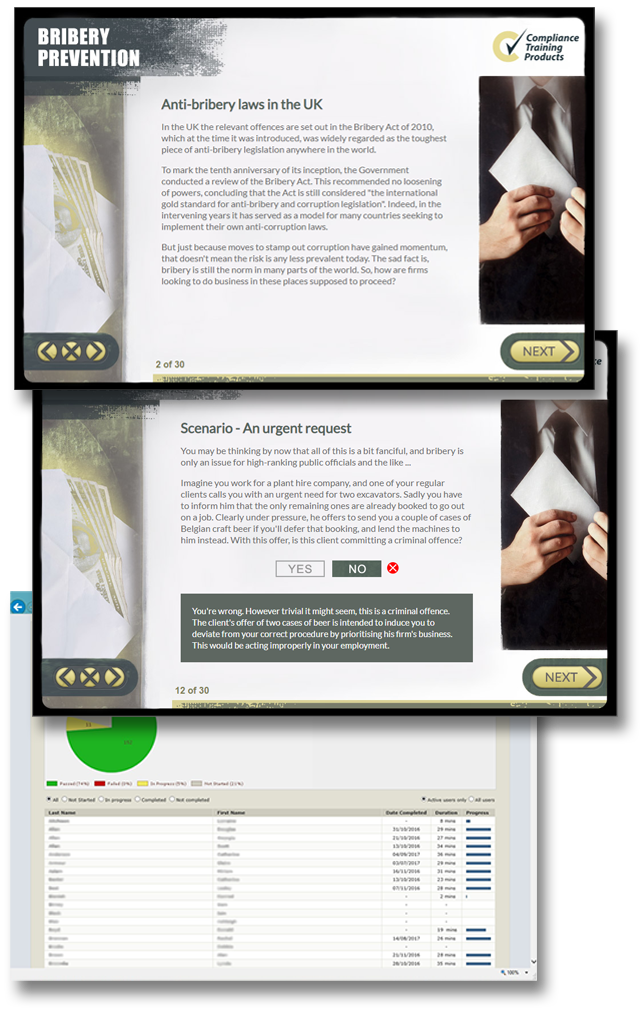 How it works
Renewable annual subscription
Training on Record is available on a year-long subscription. You pay only for the number of people you enrol – and renewal is always at your option. We update the courseware every year – and in response to any regulatory changes – enabling you to deliver a continuous programme of up-to-date training, with brand new content for repeat trainers.
Easy set-up and ongoing support
Simply email us a list of users and we'll take care of set-up for you – usually within 48 hours. You'll have access to your own area on our secure servers, with complete flexibility to define groups and add new users. We also offer outstanding technical support throughout the year – so if you ever need help, you can always give us a call.