The 2023 Handbook offers clear and practical guidance supporting your compliance with the latest Regulations and emerging economic crime legislation.
Purposeful guidance – helping you re-shape your regime as unprecedented legislative changes transform economic crime prevention, and making clear the extended obligations facing the MLRO today.
'Ten steps to compliance' format – trust our unique guide to secure your compliance. Guard against regulatory intervention with tailored guides specific to your sector / jurisdiction and additional Anti-Bribery & Corruption content.
Zero-risk purchase offer – order the Handbook and we'll post it to you straight away. If you decide not to keep it, you can return it within 14 days for a full refund
Free postage within the British Isles.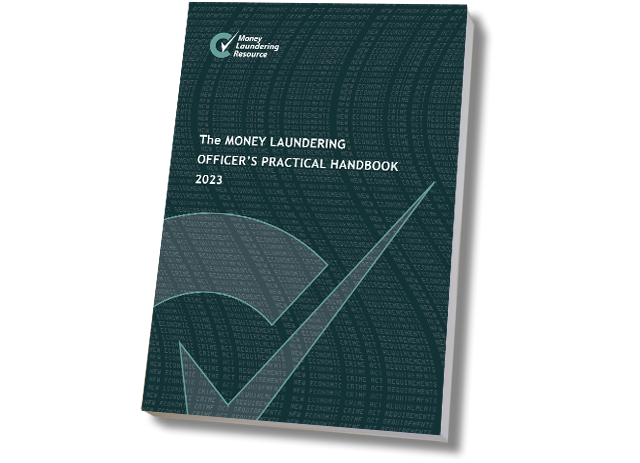 Revised and updated annually
The 10 step guide to effective risk management
Sector-specific guidance
With specific notes for Accountants, Law Firms, Financial Services, Property Firms, plus Jersey, Guernsey and the Isle of Man.
Free template documents
As a buyer you'll receive sample policy and procedure documents and ready-made forms and checklists in Word™ format to adapt for your firm.
A rapid action plan
All the essential information is here in a highly accessible format – with a straightforward action plan to help you meet your compliance goals.
The Money Laundering Officer's Practical Handbook is an indispensable guide to implementing a robust compliance regime within the latest regulatory environment:
The Handbook sets out a straightforward ten-step route to compliance. Each step includes a concise action plan, with sample policies, controls and procedures, supplemented with clear and comprehensive guidance notes:
Step 1: Assessment of money laundering risk.
Step 2: Verification of identity.
Step 3: Knowing your client's business.
Step 4: Ongoing monitoring.
Step 5: Record-keeping.
Step 6: Internal suspicion reporting.
Step 7: Disclosure to the authorities.
Step 8: Freezing transactions and consent to continue.
Step 9: Training.
Step 10: Monitoring and management of compliance.
A following section provides an explanation of today's regulatory environment, including relevant international standards, a breakdown of money laundering offences and defences, with notes on the rules that apply in specific business sectors and key legislative developments.
Further sections offer additional notes on the ten-step process, pinpointing the specific approach that must be taken for the following business sectors and jurisdictions:
Financial Services Firms and Institutions
Law Firms
Accountancy Firms
Estate Agents
Guernsey, Jersey and the Isle of Man
A separate section offers guidance on Bribery & Corruption, including the assessment of risk and how to set out policies and procedures for your firm.
A new Glossary of Terms at the end of the Handbook shines a light on acronyms used throughout the chapters.
+
-
See a detailed summary of content
Read less