Promote your firm's equality policies – this brief online course for staff explains the Equality Act and the importance of treating clients and colleagues fairly.
A cost-effective solution – online learning enables you to raise staff awareness of Equality & Diversity at a fraction of the cost of other types of training.
A concise and engaging course
Maximum convenience
Your staff can log in to our secure servers at any time and complete the training at their own speed, with minimum disruption to their work.
Online training records
User data is logged automatically should you ever need to provide your firm's training records at a tribunal or to your supervisory body.
Useful monitoring tools
'Administrator' access enables you to measure the ongoing progress of staff members and run useful reports for your organisation's files.
The Training on Record package
A programme designed for all employees:
A concise learning module – covering the all-important training messages. This brief but comprehensive module uses a highly interactive approach, with questions to emphasise key points.
A separate test module – presenting your users with ten questions randomly selected from a bank of thirty. Scores are recorded on our system to show your staff have reached the standard you require.
Web access to our Learning Management System – you'll be set up with your own secure area on our servers, with 'Administrator' access so you can monitor user progress for all your Training on Record courses.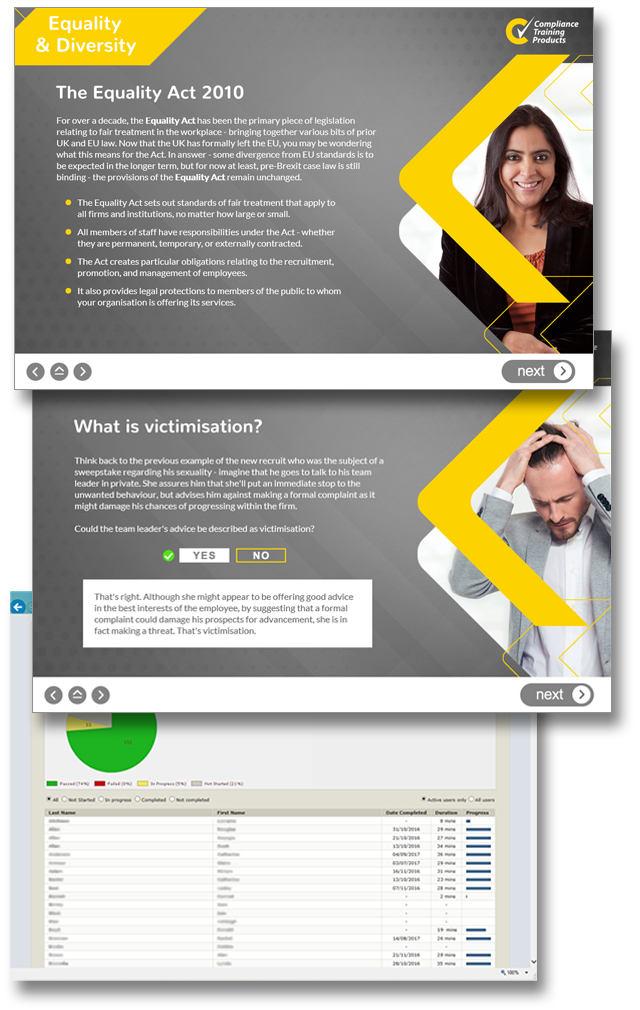 How it works
Renewable annual subscription
Training on Record is available on a year-long subscription. You pay only for the number of people you enrol – and renewal is always at your option. We update the courseware every year – and in response to any regulatory changes – enabling you to deliver a continuous programme of up-to-date training, with brand new content for repeat trainers.
Easy set-up and ongoing support
Simply email us a list of users and we'll take care of set-up for you – usually within 48 hours. You'll have access to your own area on our secure servers, with complete flexibility to define groups and add new users. We also offer outstanding technical support throughout the year – so if you ever need help, you can always give us a call.