The Equality Act has important implications for your firm – protect your business and your staff with online training and handy reference booklets.
Treating people fairly is good for business – going beyond compliance, our products are designed to raise awareness and encourage staff to think about the wider issues of 'fair treatment' in the workplace.
The right approach to Equality & Diversity
Promote your firm's policies
The law makes it necessary to have policies that protect your employees from various forms of discrimination. By actively promoting those policies you help to create an work culture where everyone feels able to meet their full potential.
Provide effective training
To protect your firm from possible liability you need to be able to show that you are taking all reasonable steps to make your employees aware of the types of unlawful behaviour that must be avoided in the course of their work.
An engaging e-learning programme for all levels of staff – with interactive questions and relevant examples to illustrate key training points. A separate recorded test module enables your employees to demonstrate their awareness and understanding of the topic.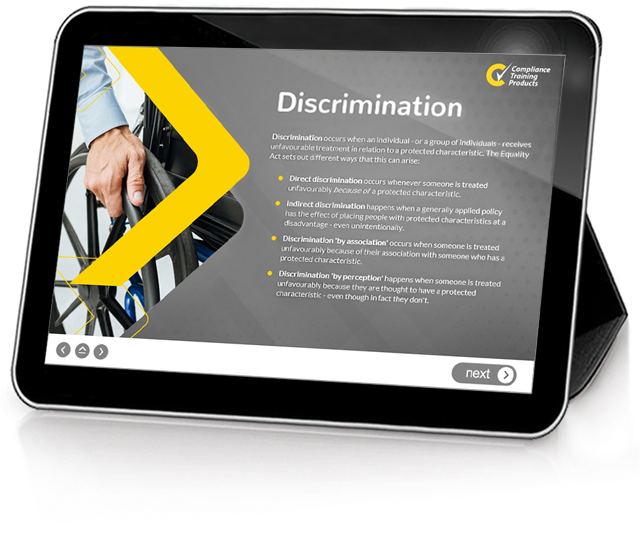 The handy reference guide for individual employees – a concise guide to Equality & Diversity in the workplace, with a check list for staff to sign confirming they understand their personal obligations under the Equality Act. Available in packs of 20.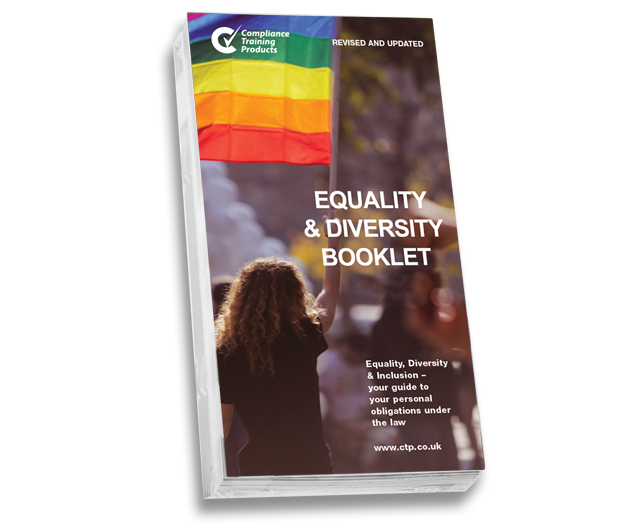 The Equality Act at a glance
What does the Act say?
The law requires your firm to protect employees from discrimination, harassment and victimisation.
What are the risks to your firm?
Allegations of unfair treatment can damage morale and lead to costly litigation and bad publicity.
What can you do about it?
Train your staff on good Equality & Diversity practice – and document the training you're providing.
All organisations have a degree of risk under the Equality Act:
The Equality Act 2010 sets out nine specific 'protected characteristics'. Some of those – such as age, race and gender – are shared by everyone.
The Act places a duty on employers to protect staff – and clients for that matter – from discrimination, harassment and victimisation because they have, are perceived to have, or are associated with someone who has a protected characteristic.
That means if one of your employees is found to have discriminated against a colleague or client, your organisation may also be held responsible and liable.
Employees who believe they have been treated unfairly can bring proceedings before an employment tribunal or a county court. Defending such actions is notoriously time-consuming and unpredictable.
To protect your firm from risk, you need to be able to show that you have taken reasonable steps to make your staff aware of their obligations. The UK Government recommends putting effective Equality & Diversity policies in place – that includes training.
Compliance Training Products offer a choice of resources designed to help you document the steps you are taking. The trusted Training on Record online learning programme automatically generates training records for you, and Personal Compliance Booklets serve as a useful reminder for your staff.
+
-
Read more about the Equality Act
Read less