The first choice for AML compliance – since 1992 the Money Laundering Resource range has provided an authoritative source of training and guidance to professional bodies and regulated firms of all sizes.
Resources for different sectors and jurisdictions – choose from a range of fully supported products to help you implement a risk-based anti-money laundering programme appropriate for your firm.
Meet your training obligations with minimum disruption – our online learning programme Training on Record offers a tried and tested solution for providing regular documented training to your staff.
Trusted by regulated firms and institutions
Offering sector specific guidance
Money Laundering Resource offers a choice of specialised products that enable you to build a compliance programme that reflects the risks to which your firm is exposed.
Products for all levels of staff
Solutions are available to meet the needs of the whole firm – from support staff to experienced professionals; from new starters through to Compliance Managers.
Versions for different sectors and jurisdictions – a complete e-learning programme, with competence assessments,  automatic training records and useful monitoring features. Available in versions for specific business sectors and jurisdictions, with appropriate courses for all staff levels.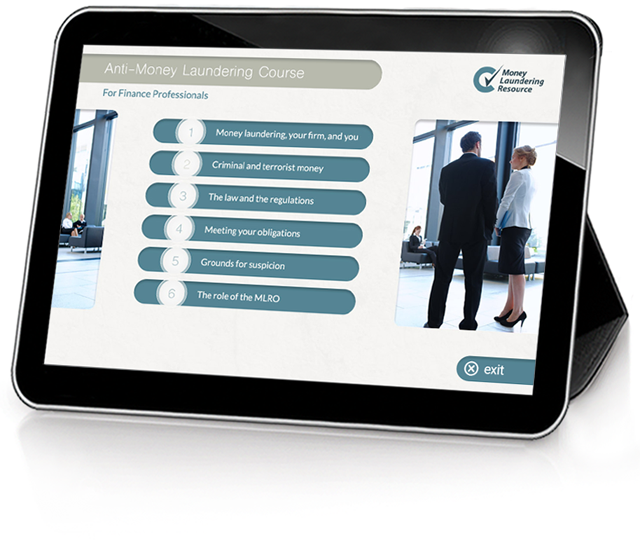 Help your staff keep pace with evolving standards – personal compliance booklets offer clear guidance on the latest due diligence measures and suspicion reporting obligations set out in UK Regulations. Available in packs of 20 booklets, with versions for different sectors.
Updated for the 2022 amendments to the Money Laundering Regulations – an indispensable guide for compliance managers, with ready-made template documents and links to additional resources. The tried and tested 'Ten Step' guide offers a clear route to setting up a proportionate, risk-assessed regime, tailored to different sectors and jurisdictions.
Money Laundering Compliance at a glance
Why is training necessary?
Money Laundering Regulations* specifically require you to give regular training to all relevant staff.
Why must you record training?
The Regulations also require you to keep a written record of the anti-money laundering training you're providing.
Why choose our products?
Since 1992 the Money Laundering Resource range has helped firms like yours reliably meet their obligations.
The UK Money Laundering Regulations 2017* set out a number of 'relevant requirements' that apply to all firms and institutions conducting regulated business:
These include a requirement to provide regular ongoing training to staff in anti-money laundering, terrorist financing and related data protection matters, and to keep a written record of the training provided.
Failure to meet any of the relevant requirements is a criminal offence – both for firms and for responsible managers.
Specifically, the Regulations require that 'all relevant employees' receive regular training on:
• awareness of the Law and Regulations on money laundering and terrorist financing
• recognising activities and transactions which may be suspicious
• dealing correctly with instances that arise
• and awareness of relevant data protection requirements.
The Money Laundering Resource range offers a choice of products that fully reflect the new Regulations – including the widely trusted Training on Record online learning programme, available in different versions for different sectors, and featuring our proprietary Learning Management System which automatically creates training records to show your firm is meeting its regulatory requirements.
*Full title: The Money Laundering, Terrorist Financing and Transfer of Funds (Information on the Payer) Regulations 2017
+
-
Read more about the UK Money Laundering Regulations*
Read less