Staff awareness is a key requirement of GDPR – Your firm must have procedures to comply with the law; that includes making staff aware of their obligations.
Protect your organisation from serious risk – online training offers a highly cost-effective way of reminding employees of their enhanced duties under UK GDPR.
For everyone who handles personal data
Up-to-date guidance
Offering essential training for staff on UK GDPR and the Data Protection Act, as well as best practice on Information Security and Cyber Security.
Online progress reports
User data is logged automatically and available online should you ever need to provide your firm's training records as proof of compliance.
Maximum convenience
Your staff can log in to our secure servers at any time and complete the training at their own speed, with minimum disruption to their work.
The Training on Record package
An essential programme for all employees
A concise learning module – providing a comprehensive explanation of Data Protection law and best practice on Cyber Security and Information Security, with interactive questions to emphasise key points.
A separate test module – comprised of ten questions randomly selected from a bank of thirty. Scores are recorded on our systems to show your staff have understood their personal obligations.
Web access to our Learning Management System – you'll be set up with your own secure area on our servers, with 'Administrator' access so you can monitor user progress for all your Training on Record courses.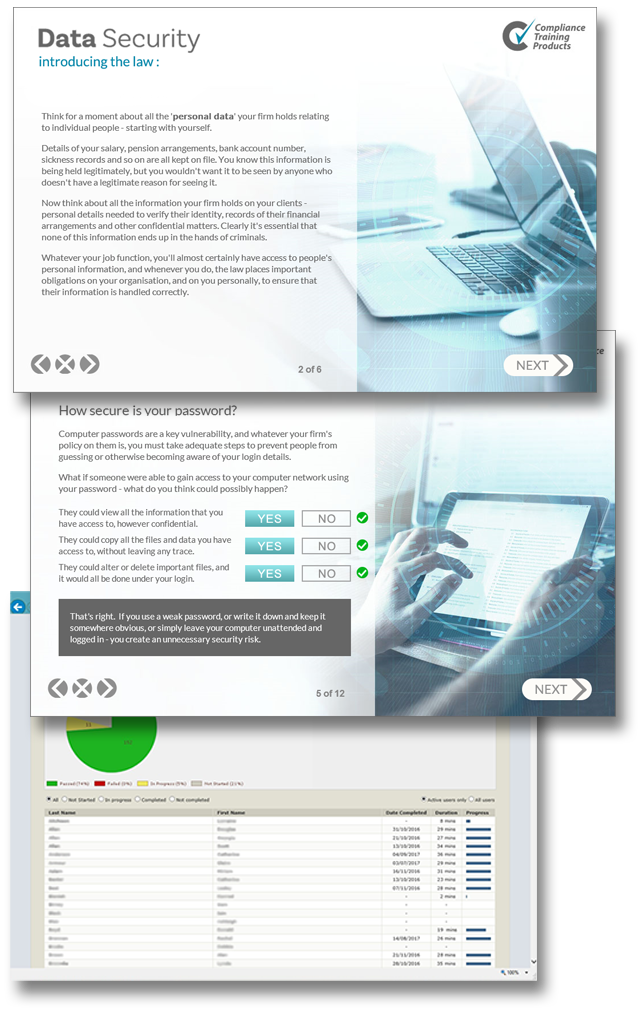 How it works
Renewable annual subscription
Training on Record is available on a year-long subscription. You pay only for the number of people you enrol – and renewal is always at your option. We update the courseware every year – and in response to any regulatory changes – enabling you to deliver a continuous programme of up-to-date training, with brand new content for repeat trainers.
Easy set-up and ongoing support
Simply email us a list of users and we'll take care of set-up for you – usually within 48 hours. You'll have access to your own area on our secure servers, with complete flexibility to define groups and add new users. We also offer outstanding technical support throughout the year – so if you ever need help, you can always give us a call.