Modern slavery is a business challenge – modern slavery and human trafficking is a real risk for any organisation. The Modern Slavery Act encourages firms to prevent modern slavery and human trafficking occurring in their business activities.
The key to prevention is staff awareness – it may not entirely eradicate the risk, but regular staff training will reduce the chances of modern slavery impacting your organisation.
What does this course cover?
Understanding modern slavery
Key aspects of the UK Modern Slavery Act
How to spot the signs
How modern slavery can affect your organisation
Meeting your obligations
Email us for a detailed course syllabus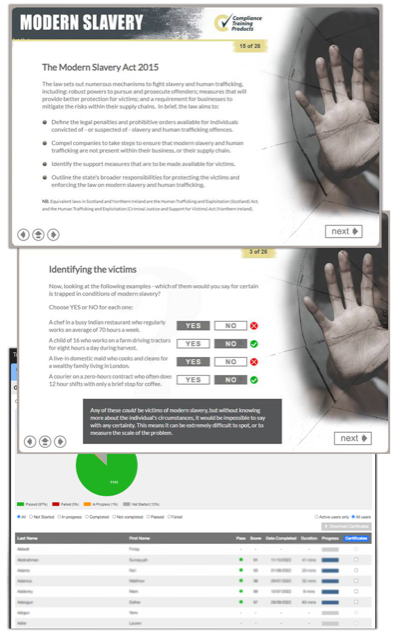 How do you protect your firm?
Educate your staff
By developing an understanding of modern slavery, your staff will be able to identify and reduce the risks across your business and supply chains, demonstrating your firm's compliance.
Test their understanding
Online training that incorporates a simple but effective testing solution will ensure that your staff have a grasp of the subject, and know what to do if they come across modern slavery.
Reinforce your policy
Your firm might be a small or medium-sized enterprise but effective training ensures your staff can adhere to your modern slavery policy, and your firm can operate in a fair and ethical manner.
How it works
Renewable annual subscription
Training on Record is available on a year-long subscription. You pay only for the number of people you enrol – and renewal is always at your option. We update the courseware every year – and in response to any regulatory changes – enabling you to deliver a continuous programme of up-to-date training, with brand new content for repeat trainers.
Easy set-up and ongoing support
Simply email us a list of users and we'll take care of set-up for you – usually within 24 hours. You'll have access to your own area on our secure servers, with complete flexibility to define groups and add new users. We also offer outstanding technical support throughout the year – so if you ever need help, you can always give us a call.