A comprehensive AML compliance programme – from the most established provider of Anti-Money Laundering training and reference products in the world.
Meet your ongoing training requirements – the online package is offered on an annual subscription to help you meet your continuing compliance obligations.
Providing expert guidance to regulated firms
Separate course versions
Programmes are available for Jersey, Guernsey, the Isle of Man, and for offshore finance centres that operate comparable regulatory regimes.
For up-to-date guidance
We keep a constant watch on the regulatory environment and update our content accordingly, so you will always get the most up-to-date guidance.
An authoritative source
The Money Laundering Resource range has provided expert AML training and guidance to regulated firms and institutions since 1992.
The Training on Record package
Including courses for all relevant staff:
Three different learning modules – a comprehensive six-part course for professionals; a separate four-part course for support staff; and a brief refresher module to help busy professionals top up their training.
Two separate test modules – one for professionals, with twenty-five questions randomly selected from a bank of a hundred; and a separate test for support staff with twenty questions selected from a bank of eighty. Scores are automatically recorded to show your staff have met the required standard.
Web access to our Learning Management System – 'Administrator' access gives you the flexibility to define groups, assign courses and add new users, as well as running useful reports and monitoring the progress of your staff.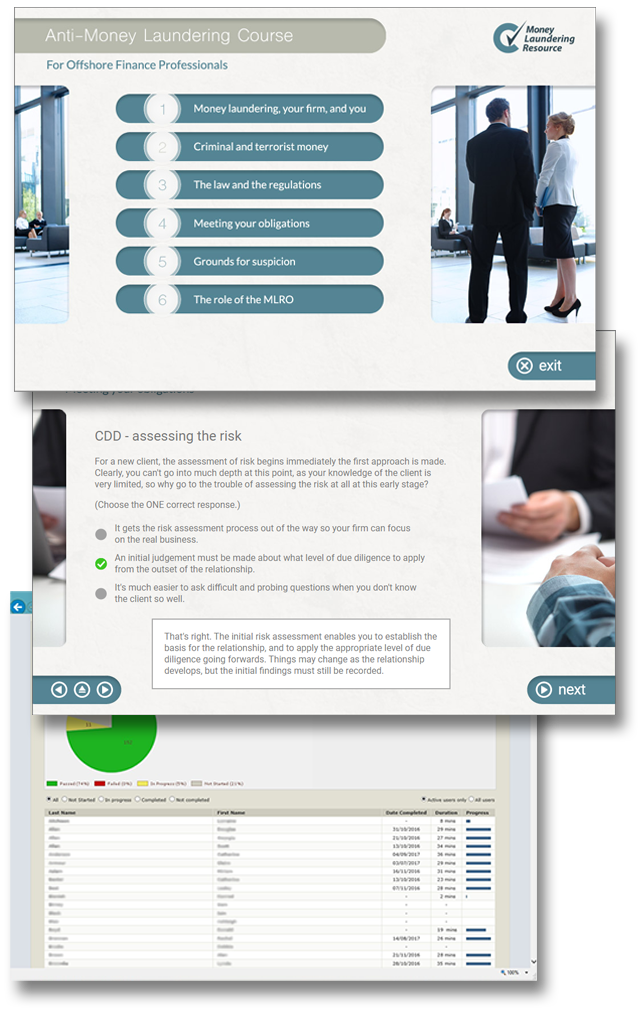 A fully supported online programme
From the most established provider
Suitable for firms of all sizes
Our online courses cost a fraction of other types of training. You pay only for the number of people you enrol, with a discount for greater numbers.
Automatic progress reports
User data is logged automatically and training records are available online should you ever be required to show your firm's compliance.
Outstanding customer service
We'll take care of the set-up for you – usually within 48 hours. We also offer ongoing technical support should you need it, throughout the year.