A complete online learning programme – from the most established provider of Anti-Money Laundering training and reference products in the world.
Meet your ongoing training requirements – our annual subscription package enables you to meet your compliance obligations with absolute certainty.
Versions for different sectors
Retail Banking
For banks and building societies providing services to personal and business account holders.
Personal & Retail Investment
For financial advisers and investment specialists whose clients are principally private individuals.
Securities & Investment
A version developed for wholesale investment specialists with corporate and institutional clients.
Asset Finance & Leasing
Specifically aimed at those working in consumer credit, asset and motor finance and leasing.
Regulated Business
Designed for regulated firms operating in other sectors, or in more than one business sector.
Not sure which version?
Email us now or call on 01223 554 990 to discuss your firm's Anti-Money Laundering training requirements.
The Training on Record package
Including courses for all relevant staff:
Three different learning modules – a comprehensive six-part course for professionals; a separate four-part course for support staff; and a brief refresher module to help busy professionals top up their training.
Two separate test modules – one for professionals, with twenty-five questions randomly selected from a bank of a hundred; and a separate test for support staff with twenty questions selected from a bank of eighty. Scores are automatically recorded to show your staff have met the required standard.
Web access to our Learning Management System – 'Administrator' access gives you the flexibility to define groups, assign courses and add new users, as well as running useful reports and monitoring the progress of your staff.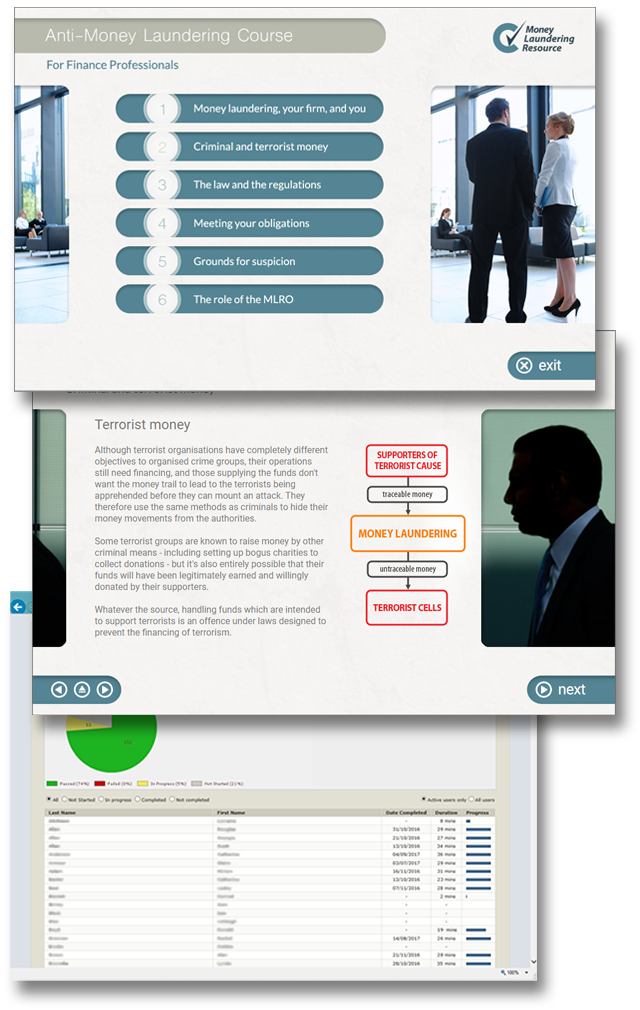 For maximum convenience
User-friendly training
Your staff can go online and log in to our secure servers at any time. Their progress is saved automatically, so they can learn at their own pace.
Automatic progress reports
Test scores are recorded on the system and training records are available online should you ever be required to show your firm's compliance.
Helpful set-up and support
We'll take care of the set-up for you – usually within 48 hours. We also offer outstanding technical support should you need it, throughout the year.